Amazon Instant Video is starting to get more content options and more original shows. The future looks bright for this streaming service as it try to compete with Netflix and Hulu for the throne. Amazon Instant Video is included with Amazon Prime which offers free 1-2 day shipping so overall the bundle is a great deal for any gamer to give a try. Not to mention they also have student discounts.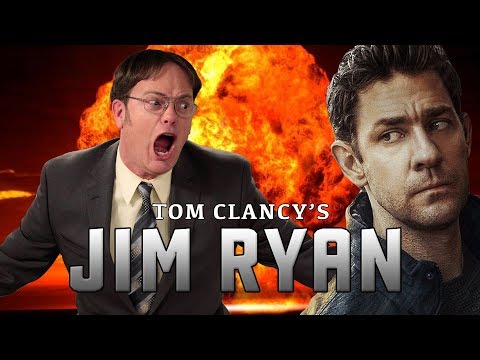 Jack Ryan
Jim from the popular hit show The Office aka actor John Krasinski, stars in this Amazon Instant Video exclusive series. Jack Ryan is a CIA analyst and is unraveled into terrorist communication in dangerous encounters that threatens destruction on a global scale. This Tom Clancy hero goes through a transformation from a standard analyst to super-agent to try to save the world. This is from the executive producer of the Lost series and is a promising Amazon Instant video series.
Kitchen Nightmares
Kitchen Nightmares featuring Gordon Ramsay is a entertaining inspection of fronts and how they do things where The Hood. Gordon is hey hot Head and extraordinary chef that's will attack any tendencies that are below average in a restaurant. This makes for hilarious moments where people are pointed out the wrong thing. It is a certainty that customers are curious profile kitchens are truly run by the chefs and kitchen staff. The owner is also interrogated of his or her management style and howdy kitchen 3 is manage such as expiration dates, and food flows in and out of the kitchen starting from customers placing an order.
Mr. Robot
Mr.Robot is not your typical computer nerd series, as it involves a hacker with split personalities and sometimes it's hard to people to jump into this series, so it's recommended to start from the beginning. The main character is Elliot, a hacker with an acute social anxiety disorder who suffers from delusions and paranoia. During the day, he works as a computer programmer for a company that provides cyber security for other companies. Elliot has other designs in mind, too, namely taking down one of the biggest corporations in America, E Corp, unsettling America's financial system, and taking power away from the rich and giving it back to the people. Mr. Robot is full of twisted mind screws (for better lack of words). It's full of conspiracy theories and misdirection that will have you lost at times, but it's interesting to watch since you'll need to try to connect the dots for each episode. This is one show where the twists leave you confused, more so than most shows you'll watch, but it is entertaining to uncover the mysteries.
Vikings
Loosely based on the exploits of the 9th century Viking ruler and king, Ragnar Lodbrok, Vikings doesn't match the level of complexity in Game of Thrones — the universe is smaller, there are fewer characters, and the plotting isn't as dense — but it's a solid, if not sometimes spectacular drama that gets progressively better over the course of the series. There's crunching violence, lots of axe play, and frequent battles as Ragnar extends his rule over parts of Europe. Compared to Game of Thrones, it's less about mind games and schemes, and more about brute force — and Ragnor's victories are seldom in doubt. Nevertheless, It's entertaining to watch the unrelenting violence unfold and revel in the demise of Ragnor's rivals. While Travis Fimmel is excellent in the lead role and Gustaf Skarsgård's Floki provides the often necessary comic relief, it's Katheryn Winnick — as Lagertha — who is the show's biggest draw.
Watching shows is always nice, but nothing beats getting some game time going.